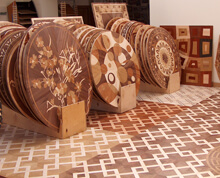 Our company, KM Par-Ker Ltd. is mainly dealing with manufacturing and implementing of warm floorings. For over 30 years in the profession has become a national expert. High quality, precise work and demanding service is proven by many thousands of satisfied customers.
Based on the experiences over the years today KM Par-Ker Ltd. is manufacturing wooden marquetry parquets (and medallion, border), that meet the highest demands on professional level.
Our company has a dominant position in the  domestic market. Keeping the highest quality in mind we worked on small (20 m²) and large scale (over 20000 m²) all over the country. By training our stuff continously we follow the changes of the demands of our customers.
Quality work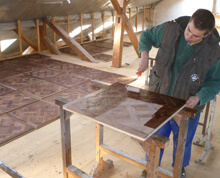 Our business structure is built and planned to continue our services to reach greater satisfaction for our customers and partners. Our goal is the application of the latest methods in flooring procedures besides increasing our market share. We emphasise the use and distribution of only high quality products. Providing all the tools to our stuff to reach first-class construction, and qualitative approach,  we have all the personal and material conditions to ensure high quality service for our clients from consulting to implementation.
Knowledge – experience – warranty

More than 25 years of  various works of all the existing wood floorings gave us a  unique experience and expertise in design and construction. This made it possible for us to provide such a wide range of products and services,that is unexampled in the domestic market.  We give 15 to 25 years warranty for implementation and products manufactured by us.
Value and quality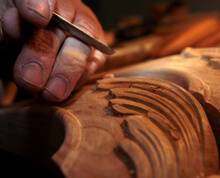 Besides of high-quality modern and traditional parquets and  inlay floorings we offer a large selection of special materials to sdeerve individual ideas and unique needs.  Our range of products is fulfilled with custom-designed marquetry and fretwork, carved furnitures, special doors, exclusive stylish intarsia floorings, marquetry images and decoration objects in all styles, that provide a free access to create a unique interior atmosphere. Experienced consultants give help in working out of design concepts and formulation of demands.
Philosophy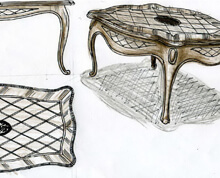 We help the work of our interior designer partners for many years at all stages of planning, from needs analysis to implementation of our wood floor. We are proud to welcome the most famous experts of the domestic interior designing industry among our partners. We believe that the value of our well–established partner relationships are based on continuous information, where the common goal is the qualitative customer service. We share our knowledge and experiences in order to reach this aim.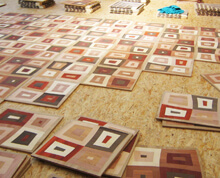 Choosing a custom furniture or wood flooring is for long term, so we thing in long perspectives. We believe that the success of KM Par-Ker Ltd. is based on the long-term satisfaction of our clients, that can be achieved by understanding and serving the needs well. Our partnerships allows to offer excellent solutions in quality and price as well.
Environment and awareness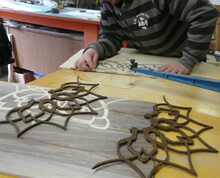 Our company is comitted to provide environmental resources for the future generations. Therefore we buy raw materials only from regenerated, planned economize farms whether exotic or European timber to choose. One of the most important aspect to select a supplier is the geographical closeness, to minimize environmental load caused by transportation. We try to protect our planet consciously, and do our best to ensure the least harm that necessarily happens with the populations' evolution, so not to cause irreversible processes in the natural environment.
Profession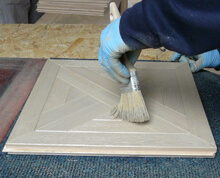 Our experts are dedicated, experienced and supportive colleagues, recognized players in the domestic interior covering industry life. We are committed to transfer our knowledge and experience to our customers to benefit them. Besides the public meetings we arrange events and other programs regularly.The nowelties, innovations and guidelines are interpreted by  recognized experts in our forums.